It's been a busy year for F-Squared and Virtual Economy! We finished our first full year in business, consulting with a number of indie and AAA publishers and developers. Virtual Economy celebrated its 100th episode, and we're getting ready to begin streaming the show on a weekly basis.
We weren't the only ones hard at work, of course. The video game industry has been busy trying to recover from the recently resurging COVID-19 pandemic, contending with game delays, component shortages, and a global supply chain crisis. Even with all of these challenges, it's been a successful year filled with exciting (and alarming) trends.
Each year, we round up the biggest trends of the year prior and where we think they're heading. Be sure to check out last year's analysis to see how we did in predicting 2021's trajectory. As live events slowly spin back up, we're looking forward to the return of GDC in March and PAX East in April. (provided the COVID-19 Omicron variant doesn't scuttle these events for another year).
E3 is a BIG question mark, as developers and publishers have realized they no longer need the Entertainment Software Association or the exorbitant exhibiting fees it takes to put up a booth at the annual event. Does that mean E3 is done for good? No, but we anticipate that at least for 2022, it will be a digital-only event again as the ESA piggybacks on Geoff Keighley's work.
And then there's the whole concept of office-based work. Many companies have again delayed their return-to-office date. Others, including Microsoft, Square Enix, Ubisoft, and more have completely rethought centralized labor, building in permanent remote work options for all employees. There's no doubt that COVID-19 has reshaped how the industry will work long-term. We expect that 2022 will see even more companies rethink workflow in a way that allows for flexibility and enables access to a global workforce without relocation.
And as we all continued to work from home and avoid contact with one another except over still-awkward Zoom calls, the game industry was shaped by the latest buzz words, a shift in a major economic territory, consolidation and, most importantly, a growing labor movement that could herald long-desired unionization for game developers.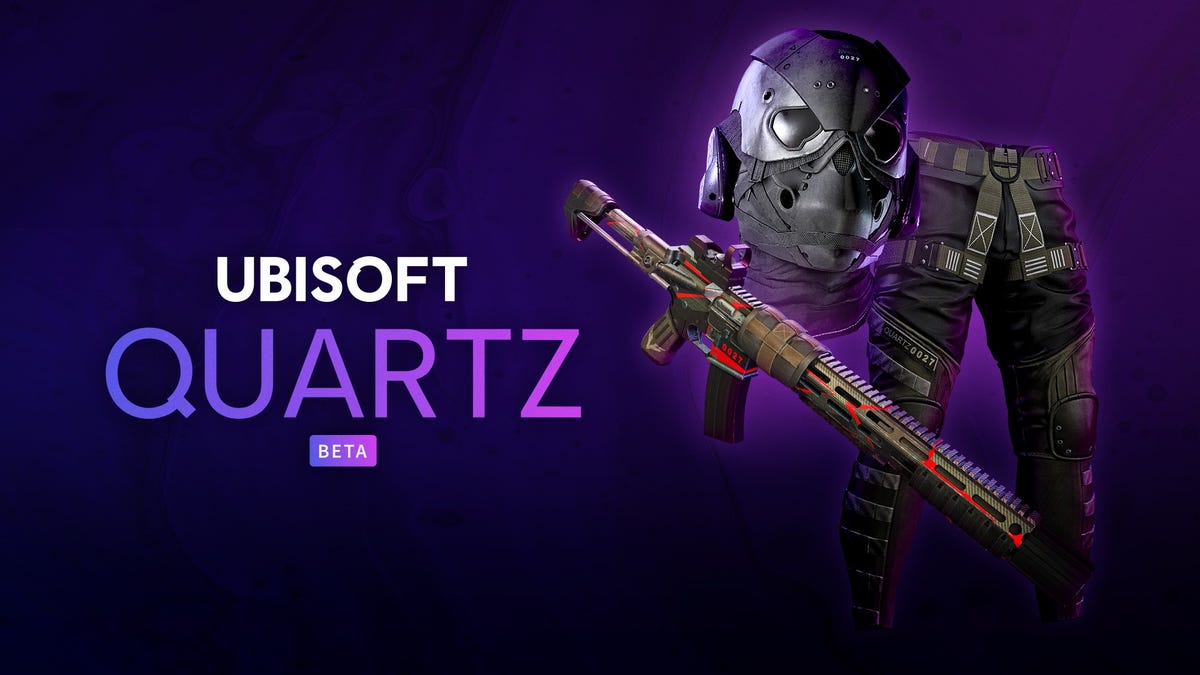 NFTs – The Tail Wagging the Dog
We're going to get this one out of the way first. We're exhausted by the NFT conversation. For those who aren't familiar, this is your last chance to turn back. NFTs, or non-fungible tokens, are a form of digital ownership originally conceived as part of a code jam to help artists assert ownership over their work when it was shared without credit online. It was unfinished and imperfect… and then the tech bros got wind of it.
Instead of iterating and refining the tech, they took the unformed idea and ran with it, "minting" ugly iterative art of monkeys and selling them using cryptocurrency. Not only is it bad for the environment (because blockchains and cryptocurrency are wildly inefficient, as explained in this thread), but the people claiming to own a piece of art don't even really have that. Instead, NFTs are effectively a digital receipt. It's a URL that points to a server.
If that server goes down, the record of ownership means absolutely nothing. The best comparison we've read aligns these digital receipts with star registries that existed for a time in the late 1900s. People could pay to name a star and the records were housed with the registration company. Two problems emerged: there were multiple registration companies and… most of them went belly-up. In other words, multiple people could purchase the rights to the same star AND now no one has access to the long-defunct records.
NFT owners are also often "cleaning" their purchases, setting up dummy sales to inflate the value. Because, of course, the NFT value is determined by what someone is willing to pay for it. So, if you fake a sale between two crypto wallets you own, you've artificially inflated the value of the NFT in hopes you can sucker someone into buying it from you at the new, fabricated value. (Not to mention the amount of art theft happening as scammers create NFTs out of art to which they never had the rights.) Like most multi-level marketing scams, NFTs are about getting in early and leaving the people at the bottom holding the bag when the bubble bursts.
They're digital Beanie Babies for a new generation.
Okay, now that you're caught up on what NFTs are, you're probably wondering what they have to do with video games. Our inboxes are flooded with pitches about "NFT games" (no, that is not a real genre), promising players a way to "own" a piece of content in a game that (most often) doesn't even exist yet.
The promise that NFT hucksters make is that your digital items will be carried from one game to another. The reality is that isn't likely to happen, at least not in any meaningful way any time soon. This would require collaboration between developers to integrate every single NFT from one game into another. Without a revenue agreement, this would be wildly unsustainable for every game down the line. And if you consider functional (rather than cosmetic) NFTs with specific stats and utility, you'd be hamstringing developers ability to balance their game in any meaningful way.
Of course, this presumes that any developer had successfully made the case that the presence of NFTs enhances the gameplay experience. So far, there has been no such case made, and it seems like the technology is the focus rather than development of a great gameplay experience. Despite that, publishers like Ubisoft and Square Enix are all the way in on NFTs… at least for now. Others, including EA, have paid lip service to the tech with no detail or plan. But that seems mostly a way to hedge their bets and not alienate either the pro-NFT or anti-NFT investor camp.
The largest NFT-based game, Axie Infinity, seems to be falling apart. Released in 2018, Axie Infinity is what's known as a "play-to-earn" game (aka "work"). Players can get cash payouts from playing the game. In a detailed Twitter thread and podcast, developer Lars Doucet breaks down how earnings from the game are falling, especially among those who have to rent their "Axies" (critters like Pokemon) from wealthy players that own them. The most important revelation from Doucet's report is that unlike most service-based games that thrive on long-term engagement and high active user counts, Axie Infinity's success is based on new user churn. As we stated earlier, the suckers at the bottom are the ones holding the bag.
Why? Because player retention isn't about whether the game is fun. It's about whether payouts continue to flow. If a game is just work and you aren't getting paid, you'll leave. This is the fundamental flaw of pay-to-earn. The developer and publisher need to get paid. The people who own the assets need to get paid. And if the digital sharecroppers aren't getting theirs, they can just leave. And if new players don't step in to keep the economy moving, it'll just collapse.
Our hope is that this fad will burn out in 2022. The reality… it's likely going to drag on for a couple more years, until publishers realize there is little interest, no gameplay value, and minimal revenue potential.
Until then, we're going to contend with digital land rushes (even Peter Molyneux is getting in on this nonsense) and implementation of blockchain technology where a simple database would do the job more efficiently. If AAA publishers thought the loot box regulatory investigations were bad, just wait until governments catch up with money laundering and fraud from NFTs and cryptocurrency. It's only a matter of time before the whole scheme becomes radioactive for publicly traded companies. We're just going to have to hope that comes sooner rather than later.
What the heck is the "Metaverse?"
If NFTs had your eyes rolling back in your head, just wait. We've got another buzz word vying for your attention. Enter: The Metaverse.
There have been a few early tries at creating something like this. Linden Labs' Second Life was an earnest attempt to create a fully fleshed out alternative world. PlayStation Home was a virtual playground with its own built-in games and fashion retailers. Second Life is still around, but it's not a major part of the metaverse conversation. PlayStation Home was sunset in 2015, never making its way from PlayStation 3 to PlayStation 4.
The reality of the metaverse today is only just beginning. And, unfortunately, there is no clear path to the vision laid out in Snow Crash or Ready Player One. This is in part due to competing interests vying to capture the audience. In an attempt to marry its VR interests with its social media presence, Facebook changed its name to Meta. If it succeeds in cornering the market, the well is already poisoned. Facebook was (and continues to be) a major contributor to misinformation detrimental to public health and democracy. And if Meta gets its way, the metaverse will be rooted in virtual reality, as it seeks to capitalize on Oculus (a brand name that's now been deprecated).
Epic is also charging hard toward the metaverse with Fortnite at the forefront. With its powerful licensing partnerships (Marvel, Star Wars, DC Comics, Warner Bros., and more), Fortnite has already successfully executed on the "be anyone" vision of Ready Player One's metaverse, and its virtual music events (propelled by COVID-19 isolation) are a taste of what's to come. What Epic doesn't have yet is the broad multidisciplinary reach that will lead to the interconnected. However, Unreal Engine, which is already being used to create virtual showrooms, and existing partnerships are a path to Epic's metaverse vision.
Another major player in the metaverse space is Roblox, which went public in 2021 and sports a market capitalization of nearly $60 billion. Unfortunately, the company is propped up on child labor and regulated employment as detailed in a two videos produced by People Make Games:
<iframe width="560″ height="315″ src="https://www.youtube.com/embed/_gXlauRB1EQ" title="YouTube video player" frameborder="0″ allow="accelerometer; autoplay; clipboard-write; encrypted-media; gyroscope; picture-in-picture" allowfullscreen></iframe>
<iframe width="560″ height="315″ src="https://www.youtube.com/embed/vTMF6xEiAaY" title="YouTube video player" frameborder="0″ allow="accelerometer; autoplay; clipboard-write; encrypted-media; gyroscope; picture-in-picture" allowfullscreen></iframe>
The company uses Robux, a form of scrip, to keep young players ensnared in its economy, due to the difficulty of cashing out. Roblox has also had its share of moderation problems, with issues of grooming, racism, white supremacy, and more making it a hazardous place for children, its target audience. Additionally, Roblox has had its share of licensing issues, putting it in the crosshairs of the National Music Publisher's Association due to rampant piracy. The result was a settlement to a $200 million lawsuit.
In short, the metaverse is still a long way off. We expect that there's going to be a flood of new players trying to make their marks in 2022. And, sadly, we're pretty confident that NFTs are likely to find their way into many of these pitches. Who wouldn't want a virtual world in which everyone looked like mass produced ugly monkey art? Yuck!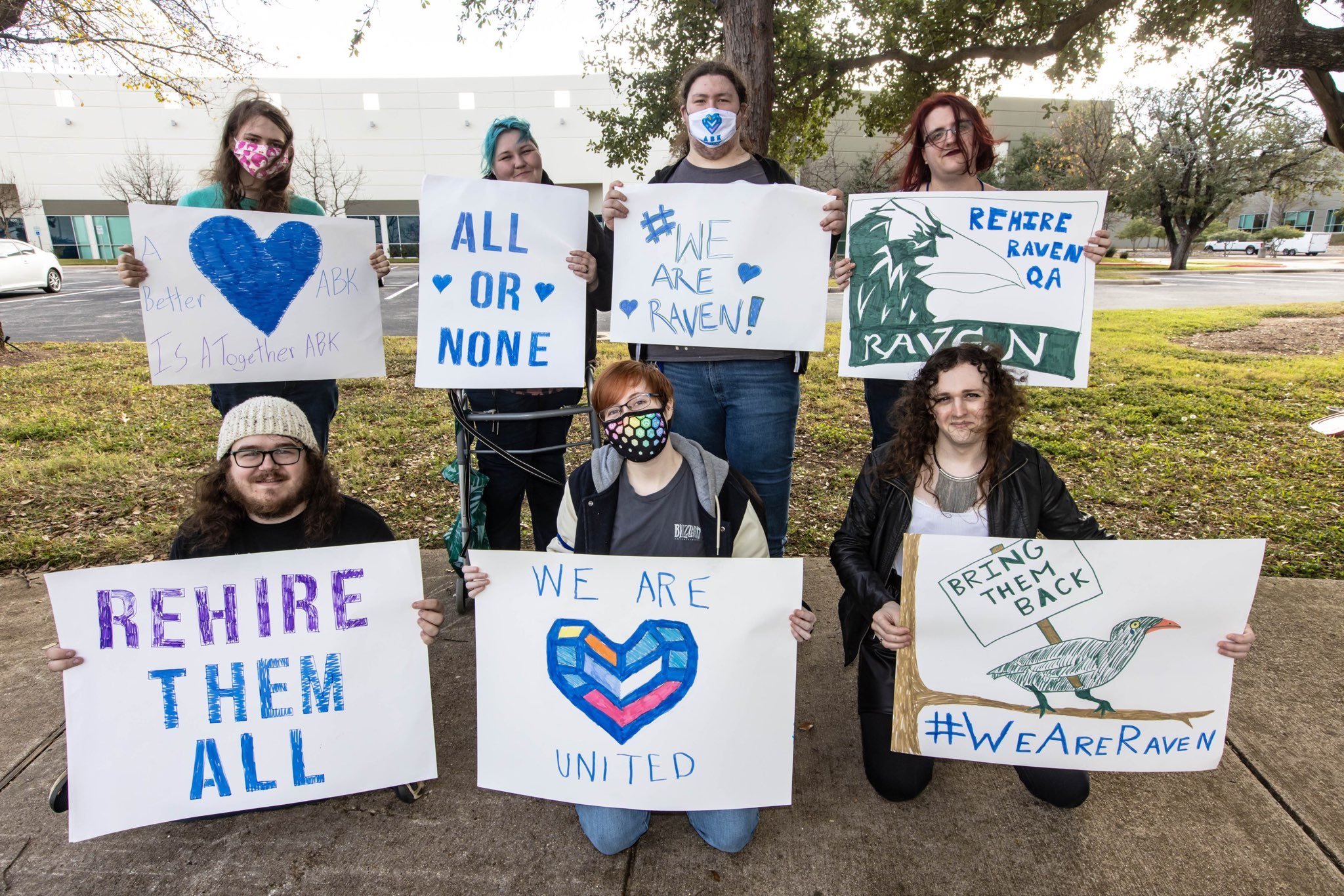 It's Time for the Video Game Industry to Unionize
In last year's trends roundup, we talked about how diversity, inclusion, and transparency needed to be at the center of conversations throughout the industry. This became one of our most covered topics on the Virtual Economy podcast, and one we anticipate being a pillar of our coverage in 2022. (Check out episodes 94, 95, 102, 106, and 110 to get caught up.)
After the gaming industry's #MeToo moment in 2020, things were finally set in motion for workers to step into their power. Now, more than a year and a half later, unionization may finally be within reach for game workers in North America.
It's been a long road to get here, beginning in 2018, when Riot Games' toxic workplace was exposed. Related lawsuits are just now coming to a close, with Riot settling with the state of California and a number of former employees for $100 million.
In 2020, Ubisoft's culture of sexual harassment became public knowledge, leading to the ouster of a number of high-level executives, PR and community professionals, and developers from a number of the publisher's studios. A year and a half later, the A Better Ubisoft worker group says there's much more to be done, as employees are feeling the company in huge numbers.
2021 brought more bombshells, as a California Department of Fair Employment and Housing lawsuit targeted Activision Blizzard for a "frat boy" culture that was rife with sexual harassment. The company is also accused of pay discrimination and depriving women and people of color of advancement opportunities.
Since then, employees have held two walkouts and there's an ongoing strike at Raven (the studio behind battle royale game Call of Duty: Warzone) related to termination of QA employees for no good reason (all affected employees were dismissed in good standing). Executives are under fire for protecting abusers, multiple high profile developers and executives have either left or been terminated. However, CEO Bobby Kotick's C-suite has been largely untouched and on the defensive.
The company's response has been tone deaf leading to immense ire throughout the development and player communities. Prior to the end of the year, Activision Blizzard employees have received union cards to sign, which triggered executives to begin active union busting efforts. We expect that the A Better ABK workers group won't let up in 2022.
While we expect it will be a long, difficult fight, Activision Blizzard is on track for unionization. Executives are not likely to voluntarily recognize a union, which will force a National Labor Relations Board vote. But given how poorly Activision workers are treated (even after concessions made by the company), there is enormous appetite for organization.
The United States saw its first unionized studio in 2021, as Vodeo Games (Beast Breaker) voluntarily recognized its union. Founder Asher Vollmer said it was a "no-brainer" to recognize the union and producer Myriame Lachapelle told Polygon that it was important for the studio to show other studios that it could be done.
We know that there are more challenging stories that will be told in 2022. But we're also hopeful that this is the year that unionization and fair labor practices become a reality for the industry.
Stay tuned for the second part of our yearly trends analysis…