This week, TriplePoint PR announced a partnership with S&P Dow Jones to launch a video game industry stock index (INDEXCME: GAMER).
With GameStonk™ shining a light on the financial side of the industry, the TriplePoint Video Game Stock Index hits at a perfect moment. It's also an opportunity to explain more of how financial markets work and why an index is important.
What is a stock index?
A stock index is a measurement tool that looks at a group of securities with standardized metrics and methodologies. In this case, a video game stock index looks at a group of publicly traded companies to determine how the industry is growing and contracting on an ongoing basis. An index allows us to compare the industry over time, just like the S&P 500, Dow Jones Industrial Average, and Nasdaq Composite.
Why is an index important?
We've known that the game industry was growing at a rapid pace during the COVID-19 pandemic. But even before, the growth of live service games and recurrent spending has created enormous growth opportunity for companies of all sizes. The game industry has been outperforming the market for quite a while.
The TriplePoint Video Game Index (TPVGI) index allows us to monitor and communicate growth on an industry-wide level, not just on company-by-company basis. "The absence of a measure of the game industry has made it hard to communicate the outperformance," said TriplePoint PR partner Richard Kain in an interview with us. "We felt that aside from our clients the overall need to have an easily referenceable metric that stays consistent over time. The absence of that was notable."
In cooperation with S&P Dow Jones, the TPVGI tracks all the way back to December 19, 2020… before COVID-19 changed our lives. The starting value of the index was determined to be 1337 (a reference to internet "leetspeak" that replaces some letters with numbers).
As of April 28, 2021, the index was more than 2,099 (an increase of about 57% in just four months). Read on to find out how the index is calculated. Over the same period, the Dow Jones grew about 12%.
Which companies are tracked in the TriplePoint Video Game Index?
The index includes 39 public companies, including:
Bandai Namco
Capcom
CD Projekt
Com2uS
Corsair
Cyber Agent
DeNA
Electronic Arts
Embracer Group AB (B shares)
Gamania Digital Entertainment
GameStop
Glu Mobile
Gravity Co.
Gree
GungHo Online Entertainment
Koei Tecmo
Konami
NCsoft
NetEase
Netmarble
Nexon
Nintendo
Paradox Interactive
PearlAbyss
Perfect World
Playtika
Razer
Roblox
Rovia
Sega Sammy
Square Enix
Stillfront Group
Take-Two Interactive
tinyBuild
Ubisoft
Unity
Wuhu Shunrong Sanqi Interactive (37Games)
Zynga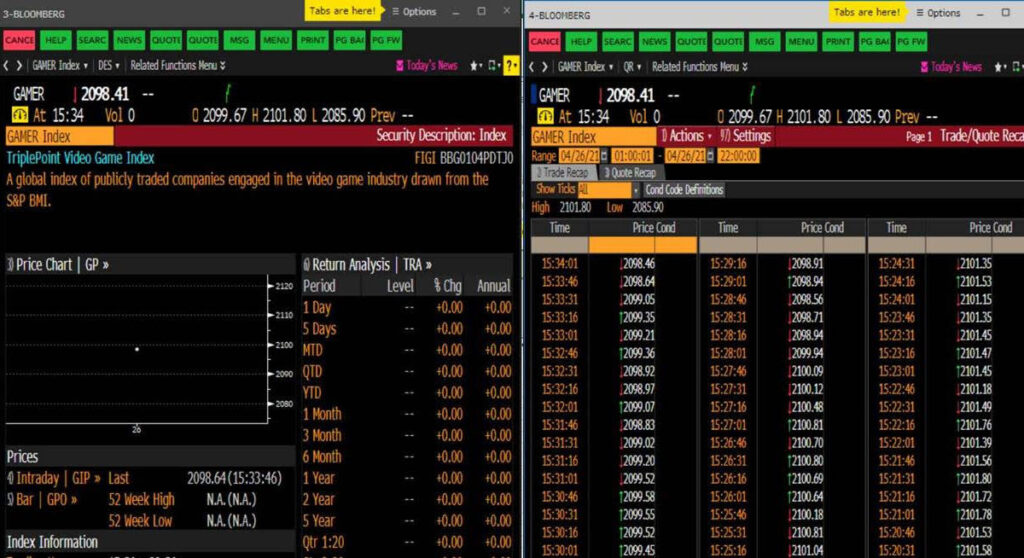 Where are Microsoft and Sony? How come they aren't included? PlayStation and Xbox are huge players.
The TriplePoint Video Game Index has some rules for inclusion. Companies must have a market capitalization of at least $250 million. (Market capitalization is share price multiplied by outstanding shares.)
Additionally, companies must be primarily positioned in the game industry. Sony and Microsoft are major players in the game industry, but gaming is far from the only thing these companies do. Additionally, Razer is on the list, but Logitech is not for a similar reason. Likewise, you won't find Nvidia or AMD on the list, because while they are pillars of the gaming community, their share prices shift on more than gaming.
In short, putting these parameters in place hones the TriplePoint Video Game Index and increases data precision. That way, when we look at quarter-to-quarter growth, we can more reliably state that gaming was the driving force rather than a driver.
What about companies like AppLovin, that just went public? And what happens if a new company qualifies?
The TPVGI is going to be rebalanced every quarter (like other indices). Not only does it mean that companies can be added (or removed if their market cap falls below the $250 million limit), but it means that the weighting will change from quarter to quarter.
The individual companies contribute to the index in proportion to their market capitalization. That means EA, Activision, and Take-Two share price changes are going to have a larger impact than smaller companies on the list.
Why now?
The game industry has experienced an unprecedented year of growth, as people around the world either deepened their video game spending or found their way to the hobby as new or lapsed players. Without movies, restaurant dining, live sporting events, and vacations consuming disposable income, video games capitalized on a huge growth opportunity.
Over the past couple of years, the industry finally matured enough to sport an index that tracked diverse companies and a range of sizes. "I've been thinking about doing this for ten-plus years," Kain said. "The problem with doing it earlier was that there just weren't enough companies to do it on and have it be a meaningful metric."
With Unity, Roblox, and AppLovin having recently gone public, an index is an even stronger tool for tracking the industry's health. Likewise, industry executives are more experienced. There is a strong mix of leaders that came up through gaming companies and those from outside the industry bringing valuable outside perspectives.
The process took about nine months, according to Kain. Working with S&P, TriplePoint identified the right stocks for the index from S&P's broad market index (BMI). There were also stocks TriplePoint identified from outside the BMI (recent IPOs or those on foreign exchanges that aren't as common) for inclusion.
One thing that sets the TPVGI apart from most other indices is that we will always see the components.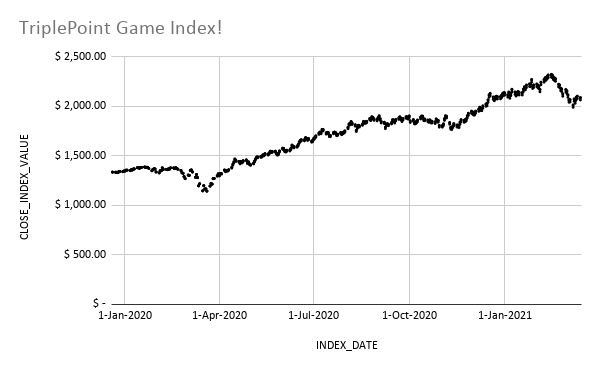 Is the index an ETF (Exchange Traded Fund)? Also… what's an ETF?
The TPVGI is not an Exchange Traded Fund (ETF), though it may be one day. ETFs are tradable securities that are pegged to a specific index (or an industry sector, commodity, or other similar asset).
There are three publicly traded video game-related ETFs right now, but their holdings aren't as focused as this index. There are social media companies, semiconductor companies, and others that aren't primarily rooted in gaming that are included for liquidity purposes.
It's not that these ETFs are bad investments, but from a data perspective, they don't serve the same function. ETFs are designed to return investment. This index is designed to give as clean a picture of the overall health of the industry as possible?
Kain tells us that if there is an ETF that emerges out of this index, TriplePoint won't likely be directly involved.
"We do believe that even though we're not planning on trying to create a financial product based on it, there has been some interest in creating an ETF that would comprise all of these [companies] to be an alternative to some of the existing ETFs," Kain told us. "We hope that would drive more capital, because once there are better, easily available means of accessing and making investment… we believe retail investors will have easier access to the things they want to invest in but probably can't right now."
Additionally, the potential of an ETF emerging explains the $250 million market capitalization cutoff. "In the event that products are created, there will be sufficient liquidity such that a financial manager can move in and out of the stock without too seriously affecting the stock itself," Kain explained. "It's common for most indices to have a cutoff like that."
If TriplePoint isn't looking to monetize, why invest in starting the index?
According to Kain, TriplePoint wants to take a bigger role in the industry. And a bit of recognition wouldn't hurt.
"We want to be part of the industry, not just a vendor to it," Kain said. "There is clearly a need. There was some time spent and some money spent, but we think it was well worth it. We believe this will help the industry overall."
So… what happens now?
Now, we get to watch and learn. As we come out of the COVID-19 pandemic and other forms of entertainment become viable again, the TPVGI will help us understand whether the industry is able to retain the growth. We expect there will be some attrition, but that many of the new and lapsed users that became video game players during the lockdown will stick around. The new index will be one valuable tool in helping us understand whether our hypothesis is correct.
We'll also be able to measure individual companies against the performance of the index. This will further aid our understanding of trends, internal decision making, and external factors like legal matters and government regulation. The index won't tell us everything, but it will help us frame our conversation about the industry as a whole and the biggest companies in it.