CDProjekt Red, despite its parent-company's status as a public traded corporation, has often been lauded by fans as the scrappy little studio that could. The studio behind the celebrated Witcher franchise has crafted beloved experiences with complex characters and deep narrative branches that many consider to be among the best games of the last generation. As a result, CDProjekt Red could, in the eyes of their staunchest fans, do no wrong.
When Cyberpunk 2077's first demo hit, we all bought into the hype. The neon-drenched glamour had us all ensorcelled into believing that this was the beginning of something magical. But once the red flags started waving, first about content and then later about crunch, the lead-up to Cyberpunk 2077 was all downhill from there. The launch itself, of course, was ugly. The game still hasn't made its way back to the PlayStation Store.
Last week, CDProjekt Group announced a number of corporate changes that would affect not only the development cycle for each of the major games (and potentially new IP) that CDProjekt Red would work on, but also how the corporation is pledging to approach internal communications and the overall work environment.
Dubbed Red 2.0, the new internal infrastructure will focus on "expanding" online experiences, including GOG Galaxy (CDProjekt's game launcher on PC), "building out" The Witcher and Cyberpunk 2077 into more transmedia IPs, and "transforming" their single-IP focused development cycle into a more parallel structure. Joint CEO at CDProjekt, Adam Kiciński, said that this shift will allow CDProjekt Red to grow their "production capabilities" and give developers the space to "change the way we make games."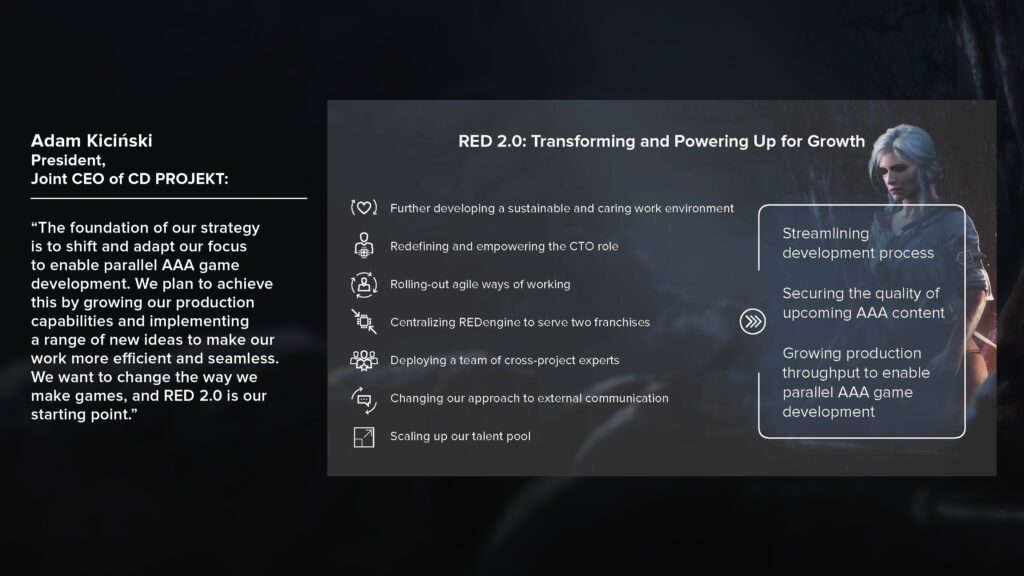 There were a number of other activities that CDProjekt is pledging to undertake, including revamping how they approach project management (a move from Waterfall to Agile), centralizing the use of CDPR's proprietary game engine, scaling up talent, and "further developing a sustainable and caring work environment." CDProjekt is also committed to engaging in more mergers & acquisitions going forward, in addition to securing Digital Scapes in Vancouver, which has been renamed to CDProjekt Vancouver. Digital Scapes worked on Cyberpunk 2077 alongside CDPR's internal teams. (Side note, as a former Vancouverite, yay for more investment in Vancouver developers.) This will bring CDPR's studio count up to four, with headquarters in Warsaw and two additional locations in Cracow and Wrocław.
In a vacuum, these changes are promising. They have the potential to help CDProjekt Group and CDProjekt Red get back in the good graces of internal stakeholders (including developers), shareholders, and the public. However, to ignore the maddening decision-making from the studio's executives would erase Cyberpunk 2077's horror-show of a launch, in addition to the studio's tendency to crunch its workers into oblivion during development cycles for both of their major IP. And, ultimately, you can't really fool investors. They will find out when you're lying to them… and sue you for it.
Investors are ducking out of CDProjekt Group's stock. As of today, CDProjekt's stock is the lowest it's been since the beginning of 2019, in the lead-up to CDPR's E3 2019 demo, which would send the stock price rocketing up to over 400 Polish złoty just before Cyberpunk 2077's launch. The corporation had built up a ton of goodwill from both investors and the press in the lead-up to launch and since then, investors have been steadily dripping out. When it comes to gaming, investors aren't in it for the risk. They're in it for the reward. And they had a huge payout on the horizon with Cyberpunk 2077, before everything came to a halt.
It's not surprising that investors are showing very little confidence in the corporation's future.
Knowing what we've known about the development practices at CDProjekt Red (for literal years), it's hard to take their comments about their commitment to "further developing a sustainable and caring work environment" with anything other than a grain of salt. A big grain of salt. The saltiest salt to ever salt, truly. CDPR reassured the public, way back in 2019, that the Cyberpunk 2077 developers would not have to deal with the same amount of crunch that they had when they were developing The Witcher 3.
And they lied.
Leadership straight up lied and the developers paid the price, much as they always do when project management goes sideways and the C-Suite gets antsy about delivery.
This feeds right back into "scaling up talent" — CDPR wants to grow talent, but that starts in retaining the talent already at the studios. There was reportedly quite a bit of brain drain after the Witcher 3 crunch and the loss of that amount of domain knowledge was going to have ripple effects… much as we saw throughout Cyberpunk 2077's development. Retaining talent is necessary and without the safety to grow and evolve as game makers, because you're too burnt out to be forward-thinking, talent will go to where they're going to be best cared for.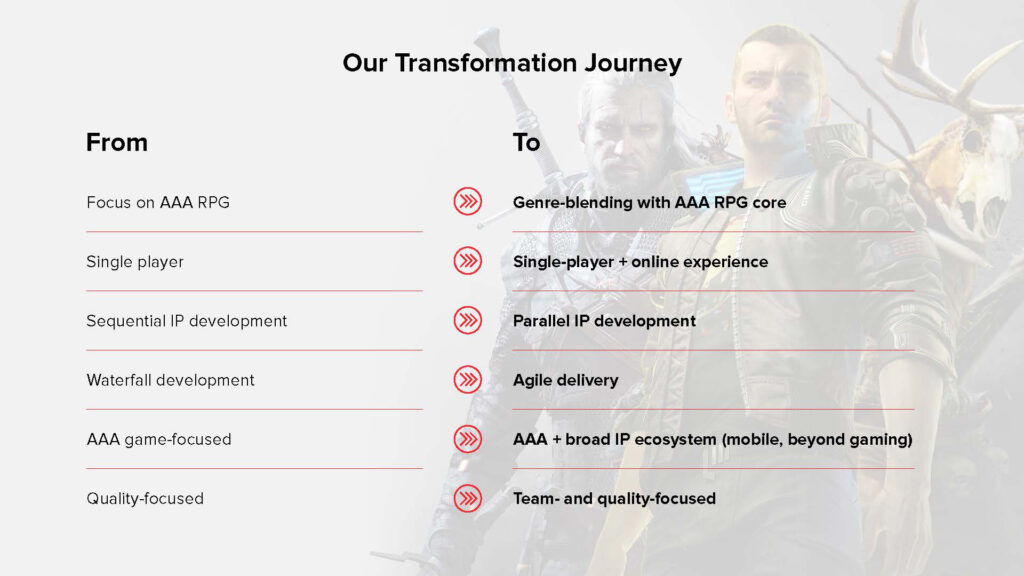 Now, it's not all bad. Leaning into a more transmedia approach—emboldened by the success of The Witcher on Netflix—is an intelligent business decision that would diversify revenue and ensure that hungry fans will have greater access to the franchises that they love. Fans love merch. Fans love licensing. Fans love transmedia. It gives them more to consume and, considering we're all still waiting on bated breath for the new normal after the pandemic to begin, it's important to cultivate. It will be interesting to see how CDPR will capitalize on mobile and a greater interest in linear storytelling on television and in movies.
Finally, CDPR's implementation of Agile is one of the most important (and daunting) tasks that all of the studios are going to undertake. Waterfall and Agile are completely disparate methodologies, as Waterfall requires dependencies and Agile allows for projects to be more nimble, focusing on iterating and pinging back and forth between milestones and tasks. But the switch isn't going to be overnight. It's going to need to be incremental, otherwise the systems will be useless and the teams are going to be left behind.
Parallel development is important for diversified revenue streams. If CDPR manages to fully implement Agile project methodologies across their four studio locations, then the shift to parallel development cycles for Cyberpunk 2077 and The Witcher will be much more successful. There will reportedly be a focus on having a cross-functional team that will move back and forth between projects, but unless that "sustainable and caring work environment", with all of its claims that it will provide barrierless support, takes highest priority, this team will end up being the most burnt out of all. Moving between projects is easy when the project management methodology supports it, but there's no guarantee that's what will happen at CDPR, at least not right away.
CDProjekt has a long way to go before it will regain the public's trust, let alone investors and the media, following the ruinous Cyberpunk 2077 launch. I hope that they'll be able to make good on each of these claims in time, but until we see proof, all this amounts to is corporate bluster and pretty words.