We often joke that the Virtual Economy podcast isn't about video games, but the truth is we play A LOT of video games. As we wrap up a busy 2021, we're sharing our favorites from this year (and a few we loved that were released in years prior). Of course, we're adding a touch of context and business analysis where appropriate. Enjoy!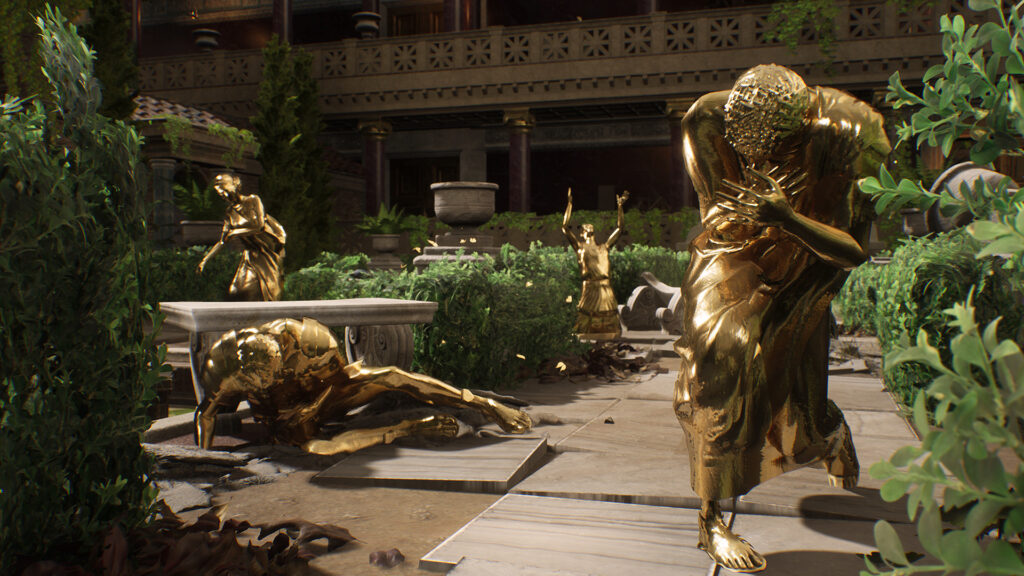 The Forgotten City – Modern Storyteller
Why we need great mod developers
I love a good time loop story, and Modern Storyteller most certainly delivered with The Forgotten City. Without giving away too much (because you should go play this right now), players are tasked with averting disaster in an ancient Roman city buried deep underground.
The "Golden Rule" looms large over the population. The citizens know that if anyone in the city were to ever commit a crime (theft, assault, murder, etc.), a curse would befall everyone, encasing everyone in gold. But don't worry… if you or someone else happens to trigger the end of the world, a quick jaunt to a portal will reset the day. Clever puzzles, interesting decisions, and some smart quality of life features make this game (originally a Skyrim mod) a brilliant debut title and one worthy of your time.
In our work, we're often talking with small teams looking to make their mark on the industry. It's delightful to see a team like Modern Storyteller take their passion project from mod to successful standalone release.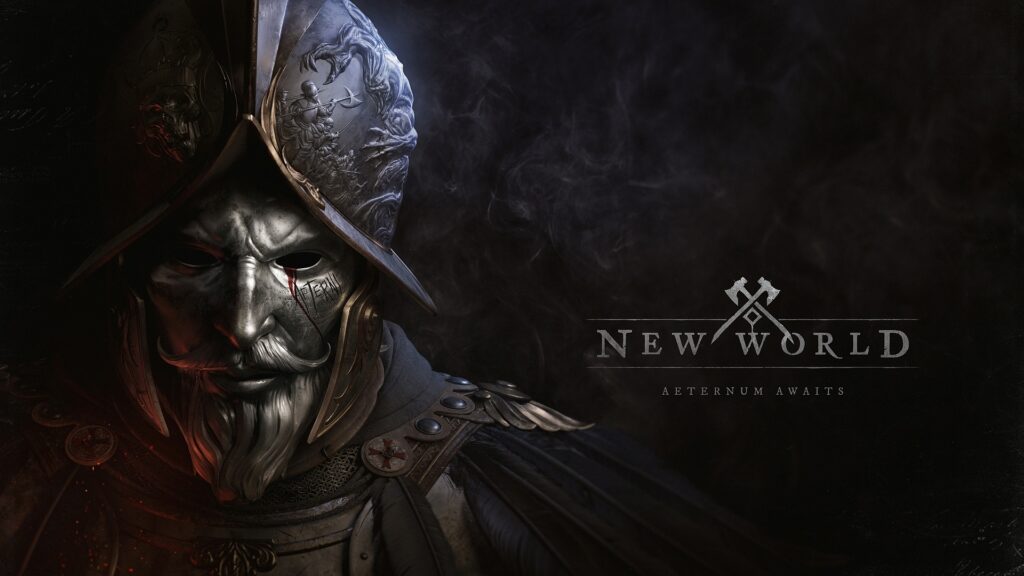 New World – Amazon Game Studios
The one that Amazon didn't cancel
Anyone who knows me knows that I'm not an MMO player. I've tried over and over and over again with Everquest Online Adventures, Final Fantasy XI, Star Wars: The Old Republic (which I'd give another chance), DC Universe Online, and more. It wasn't until Final Fantasy XIV that I'd found one that clicked. It's extremely respectful of players' time, and it helped me understand how to love the genre.
This entry isn't about that wonderful game, though. No, I'll get back to that in 2022. This entry is about Amazon's New World. New World is perfectly okay. In fact, if you love traditional MMOs and don't need action-oriented combat or have any desire to tussle with a parade of bugs that has forced Amazon Game Studios to fully turn off the inter-player economy multiple times, you should steer clear.
But if games are as much about what's put in front of the player as they are about the experience of playing them, New World belongs on my list for 2021. This is the game that has brought our family together over and over again since its launch this fall. Sure, it tends to be a hot mess every other week, but it's a disaster that has helped create wonderful memories even as distance has kept us apart.
It's also a game that Amazon Game Studios absolutely needs to survive. With failures mounting, including sports brawler Breakaway, third-person shooter Crucible (which was released and then un-released), and a canceled Lord of the Rings project, New World is the first game Amazon's managed to ship (without returning to sender). There's potential here, but whether this one has the strength to last remains to be seen.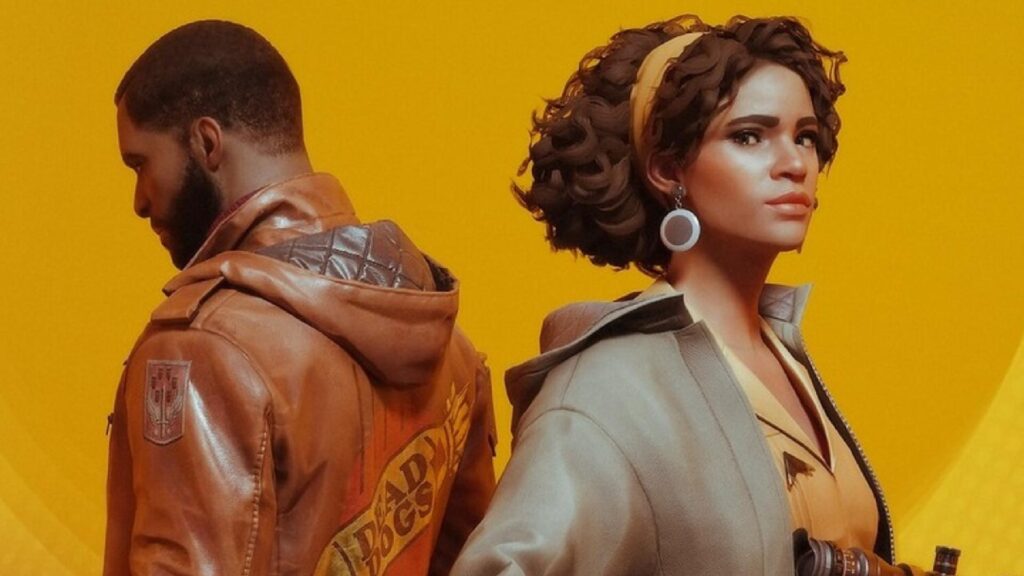 Deathloop – Arkane Studios
The first of two PlayStation exclusives from Microsoft's biggest gaming acquisition
Full disclosure: I had the opportunity to do some consulting work for Deathloop prior to its launch. It's rare that I finish a work project and immediately want to dive back into a game on my personal time. I immediately wanted to dive back in, because Deathloop was a thrill to play. It's got all of the hallmark Arkane worldbuilding you'd expect if you've played Dishonored or Prey.
What might surprise you is how much Deathloop feels like an escape room played in the context of a repeating day. Sure, the guns and powers are fun, but my favorite part of the game was unraveling a complex puzzle or working out some obscure and innocuous head-scratcher that many players might otherwise overlook.
Layer in excellent writing and voice performances, open-ended play with enormous agency, and the giggles of springing a devilishly clever trap against another player whom you've invaded, and you've got something truly special.
And that's before you consider the amazing business story. The Deathloop limited exclusivity deal was inked before Microsoft's $7.5B acquisition of Bethesda that closed in March 2021. It's certainly a trip to play a PlayStation exclusive developed by a Microsoft-owned publisher. And it's one we'll get to take again next year when Ghostwire: Tokyo from Bethesda-owned Tango Gameworks arrives on PlayStation 5.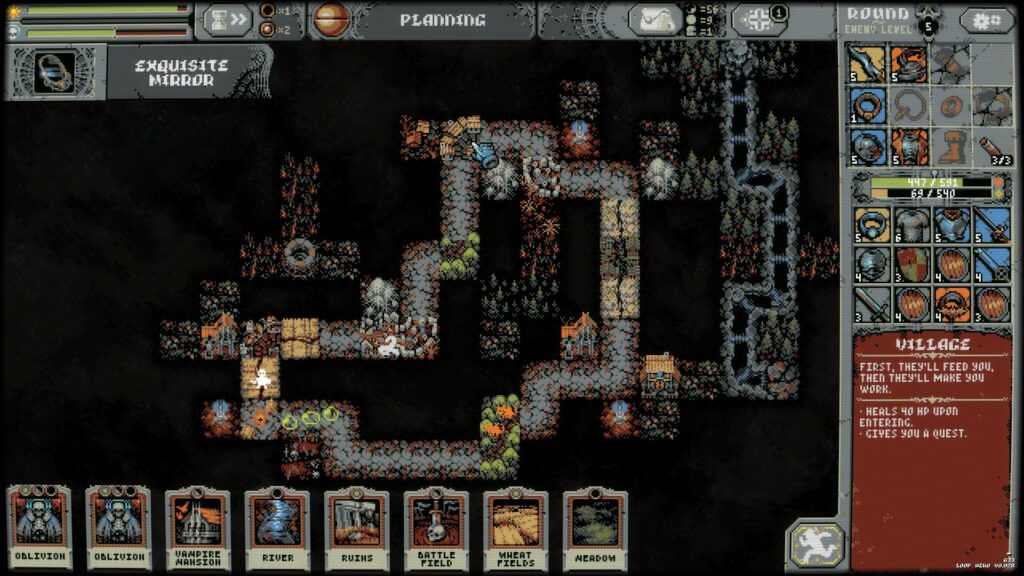 Loop Hero – Four Quarters
Round and round we go in yet another Devolver-published hit
There are few publishers that have a success rate as impressive as Devolver (earning two spots on my list this year). According to Metacritic, of Devolver's 169 releases (each platform is considered its own entry), the publisher has never released a bad game (defined as a title with an average metascore lower than 50). Devolver has a distinct personality, picking games for its portfolio that express its quirky perspective on the video game industry. From the colorful mayhem of Fall Guys (since transferred to Mediatonic's new owner Epic Games), the splortching body horror of Carrion, the surreal beauty of Gris, or the comedic hyperviolence of My Friend Pedro, Devolver manages to pick winner after winner.
Loop Hero continues that trend, presenting players with a minimalist aesthetic that masks deep, engrossing gameplay. The world has ended, and it's up to you to repopulate it (no… not like that). With cards representing different geographic features as well as monster-generating graveyards, vampire mansions, and battlefields, you'll build your strength and arsenal to eventually defeat the horror that consumed your world.
Each of the tiles you place might interact with adjacent landmarks to create something entirely new. Loop Hero is a constant balancing act. You need to populate the world with more monsters to get stronger, but if you do it too quickly, you won't be strong enough to take them on. The world you're rebuilding isn't a pretty one, but it's the one you need to defeat the big bad and, hopefully, restore everything that's been lost.
It's so easy to lose hours to Loop Hero, which is why I'm afraid to dive back in with the recently released Switch version. Now when my Steamdeck arrives… that's a different story. Of course, there's more to Devolver's story this year, but we'll cover that later…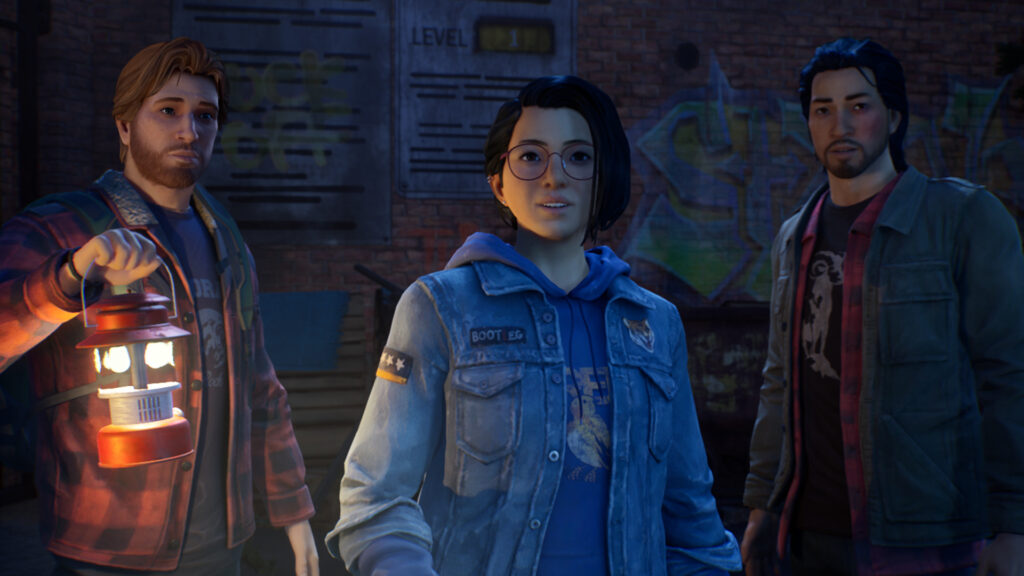 Life is Strange: True Colors – Deck Nine
New developer, new format, same great storytelling
Another disclosure: Manda and I worked on this one for Square Enix. I've been a fan of the Life is Strange games since Dontnod's original debuted in 2015. And while I played both the original and Before the Storm (developed by Deck Nine) by myself, Manda and I passed the controller through all of the heartbreaking Life is Strange 2 together.
Life is Strange: True Colors is astonishing for a number of reasons. It fully realizes the premise of the franchise, marrying the mundane and the supernatural in a way that feels authentic and earnest. The characters are relatable, with protagonist Alex Chen my favorite across the franchise. Most importantly, it marks a shift for the franchise, with Dontnod departing the series to pursue its own projects and publishing initiatives and Deck Nine taking the lead fully. It also marks a departure from the episodic release format while still retaining the heart of that storytelling contrivance.
This shift to a single release enabled one of the best segments in a Life is Strange game (Chapter 3's LARP). This allowed Deck Nine to spend time developing characters without having to push the overarching narrative forward like an episodic release would demand.
The industry needs more heartfelt storytelling like Life is Strange: True Colors with AAA financial support. We see some of that coming also from EA's Originals program (Sea of Solitude, It Takes Two), and we used to get some of this from Ubisoft (Child of Light, Valiant Hearts). My wish for 2022 is more big publisher money spent on projects like this.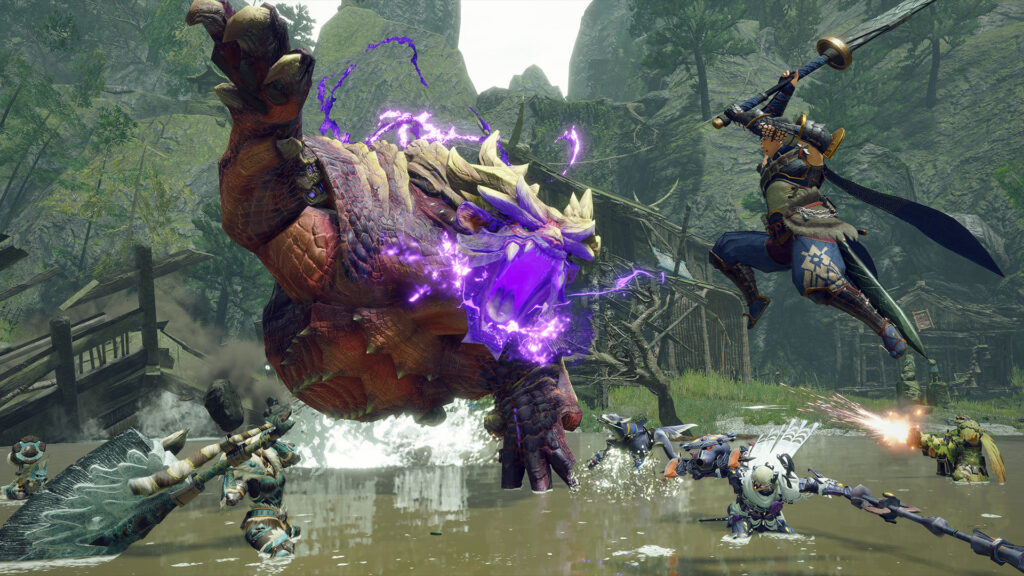 Monster Hunter Rise – Capcom
You can definitely pet the dog
Monster Hunter is a series I always want to spend more time with, but inevitably get pulled away by work projects or other games. Thankfully, with each new release, I get closer to finally playing long enough to reach the endgame.
Monster Hunter Rise brings a great balance of the last entry's approachability and the grittier bits of traditional Monster Hunter. While you won't find scoutflies from Monster Hunter World, the new wirebugs, rideable Palamutes, and an overall more fluid traversal system make this the easiest game in the series to dip into (especially if earlier titles haven't clicked for you).
I'm sure I'll be back for next year's Sunbreak expansion, because my hunting horn has many doot-doots left in it. Let me know if you want to go on a hunt sometime! Now… if only Capcom would figure out that cross-progression across platforms would lead to more double-dips when the PC version comes out. Sadly, that's not in the cards for Rise.
Unpacking – Witch Beam
Environmental storytelling at its finest
I played through the entirety of Unpacking in one sitting and marveled at how it told a complete, compelling, cohesive story with almost no text whatsoever. There are two moments in the game that stand out as particularly memorable. In one scene, the protagonist is clearly in a relationship that isn't good for her. This is expressed exclusively through the game mechanics and inference.
It's the last scene that sealed this game's place on my year end accolade list. Without spoiling too much, there is one small detail that drives home just how much attention to detail was lovingly poured into this game. If you're curious which detail it was, feel free to DM me on Twitter (@Futterish) or hit me up via email (mike@fsquared.biz).
It's a delight to see indie successes like Unpacking continue to do well, with its Game Pass presence contributing to huge buzz. NPD's Mat Piscatella calls Game Pass a force multiplier, with positive word of mouth due to Game Pass engagement leading to larger out-of-pocket sales. So, it's no surprise that Unpacking reached 100,000 copies sold in its first 10 days.
(Of course, Game Pass amplifies negative word-of-mouth, but that's a story for another day…)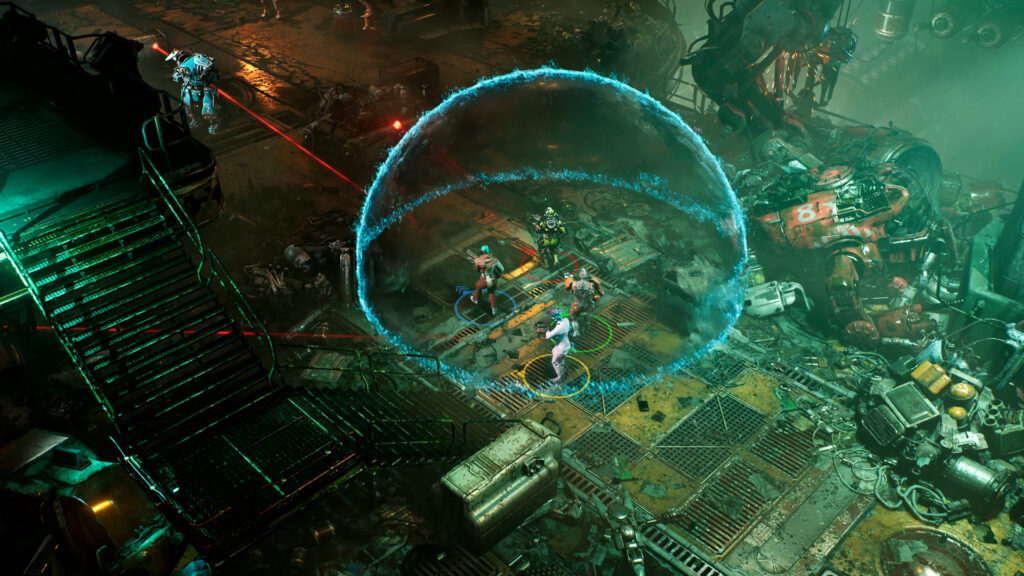 The Ascent – Neon Giant
Another great Game Pass selection
Nothing brings people together like neon-colored ultraviolence. For those of you who watch Manda's "ReadyPlayerMom After Dark" stream, you got to see us play through the entirety of The Ascent with her dad, Chris. For the joy we got out of that alone, it belongs on this list.
It's also an extremely competent far-future cyberpunk game that perfectly captures the hyper-capitalism of the genre. Throughout the 20 or so hours we spent with it, The Ascent weaves an engaging tale of deception punctuated by massive explosions, giant mech suits, and angsty aliens that don't think much of humans. But then again, if you observed our collective response to COVID-19, would you think much of us?
The Ascent is currently on Xbox Game Pass, so if you're itching for a top-down action RPG shooter, this one's for you.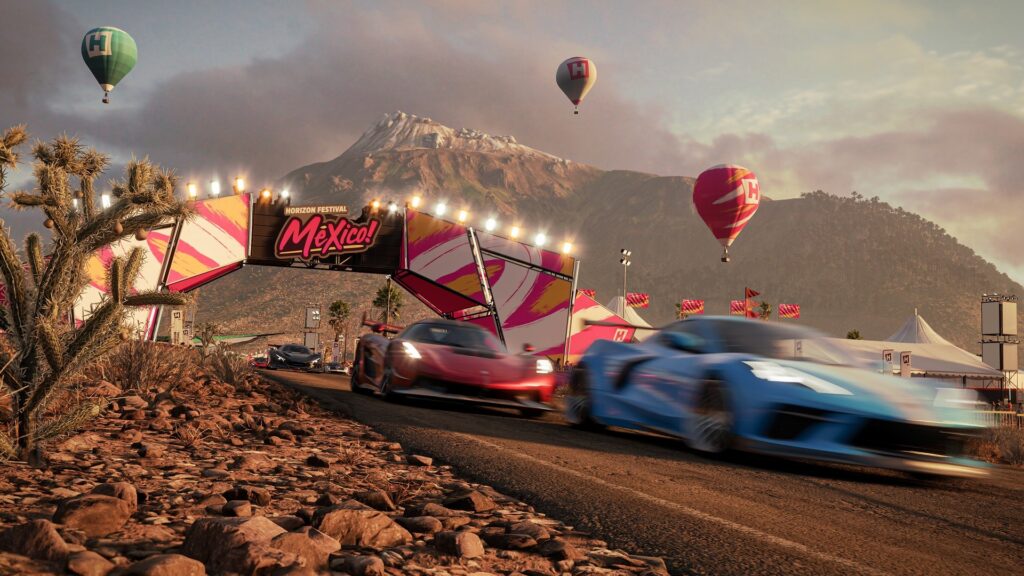 Forza Horizon 5 – Playground Games
Racing is for everyone
I'm not a huge racing fan, but as someone else described it, Forza Horizon is an open-world action game with cars as much as it's a racing game. Setting the high bar for accessibility (especially with its upcoming sign language interpreter update), Forza Horizon 5 is the latest game to deliver on Microsoft's promise that "gaming is for everyone."
As But Why Tho? Editor-in-chief Kate Sanchez wrote for Paste Magazine, Forza Horizon 5 "loves, respects, and brings Mexico to life." It's a true joy to drive through the different areas, explore ruins, and figure out how to get just enough air to break through a fast travel billboard.
Forza Horizon 5 also has the technical depth to appeal to gearheads while streamlining upgrades and tuning for those players who don't know how to change their oil. It's the perfect blend of arcade and sim, creating an upbeat, positive, energetic experience from the first moment that carries all the way through.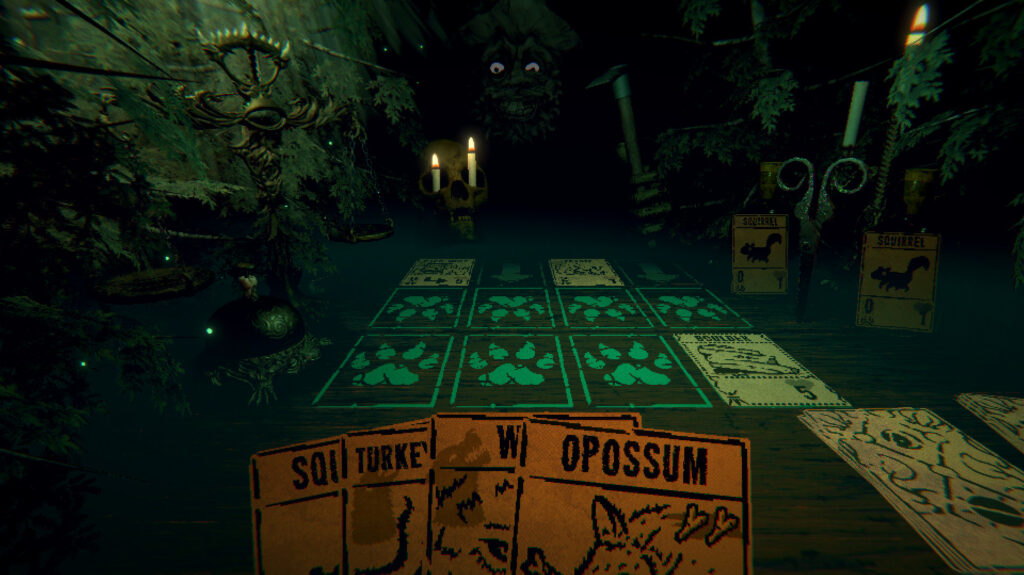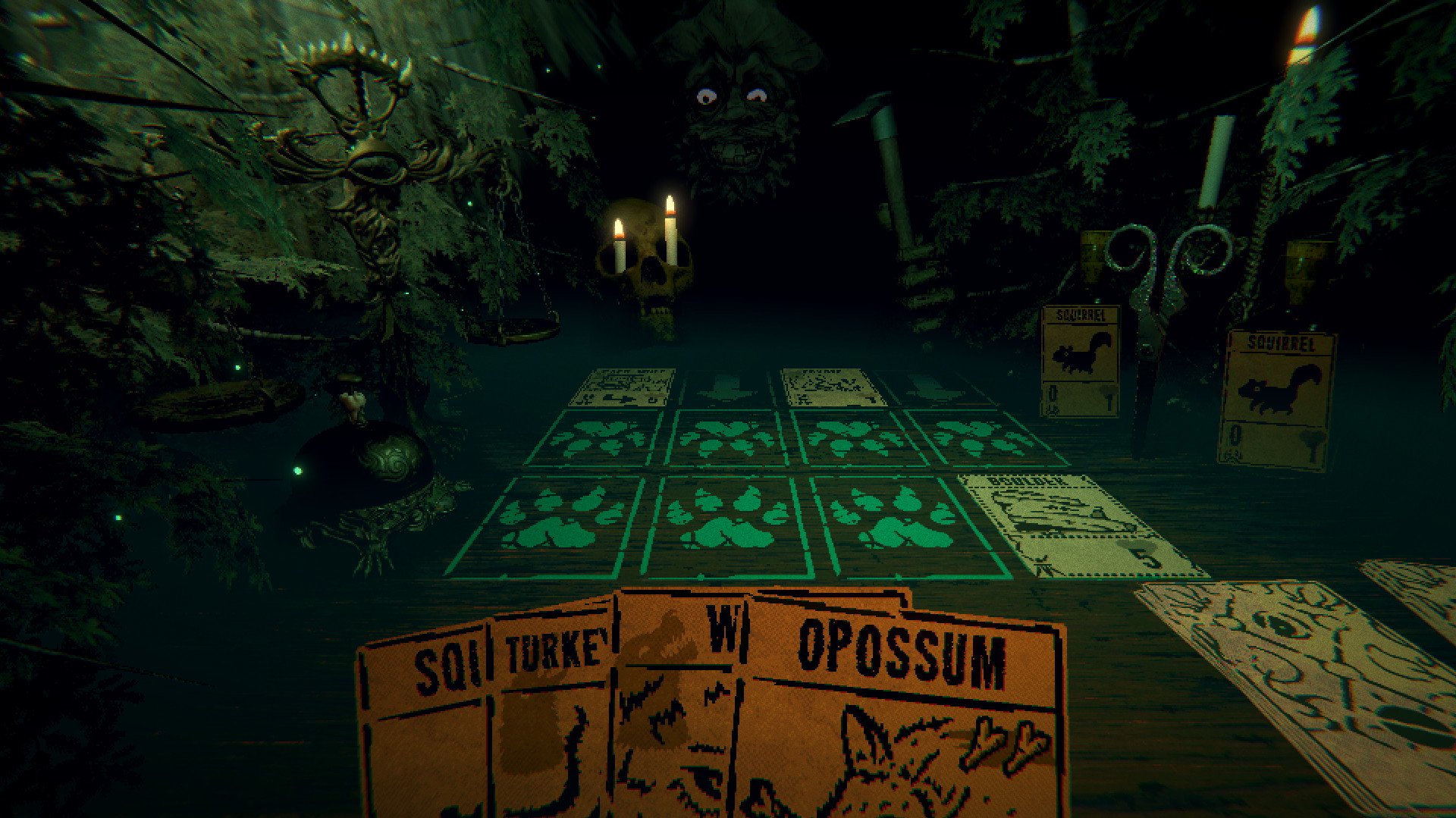 Inscryption – Daniel Mullins Games
What. The. F—?!
There is nothing I love more than when a game surprises me by subverting expectations and breaking the fourth wall. Inscryption did so over and over and over again… all the way through to its stellar conclusion. If you haven't played it yet, I won't spoil it here. Instead, I'll let you know that at first glance it looks like another entry in the recently flooded rougelike card game genre (Slay the Spire, Monster Train, etc.).
Inscryption is so much more than that, though. And I can't say much more without spoiling it except to urge you to go and play it right now.
Instead of talking about the game, I'll talk a bit more about Devolver Digital (as foretold in the Loop Hero entry). During my years as Game Informer's news editor, my favorite E3 assignment was Devolver's pop-up booth in the Hooters parking lot across from the Los Angeles Convention Center. It was worth the trip across the street to demo great games in air conditioned trailers. Devolver, the scrappy independent publisher with a heap of attitude backed by a stellar portfolio, has never wasted my time.
Now, that smaller independent company has gone public with a market capitalization of £875M ($1.18B USD) on the London Stock Exchange. Shares are up about 7% from an open of £185 per share, and the company is set for an exciting 2022 with Shadow Warrior 3, Cult of the Lamb, and Weird West among a big slate already announced for release over the next 12 months.
I'm hopeful shifting from indie publisher to publicly traded company won't dull Devolver's edge.
Honorable Mention: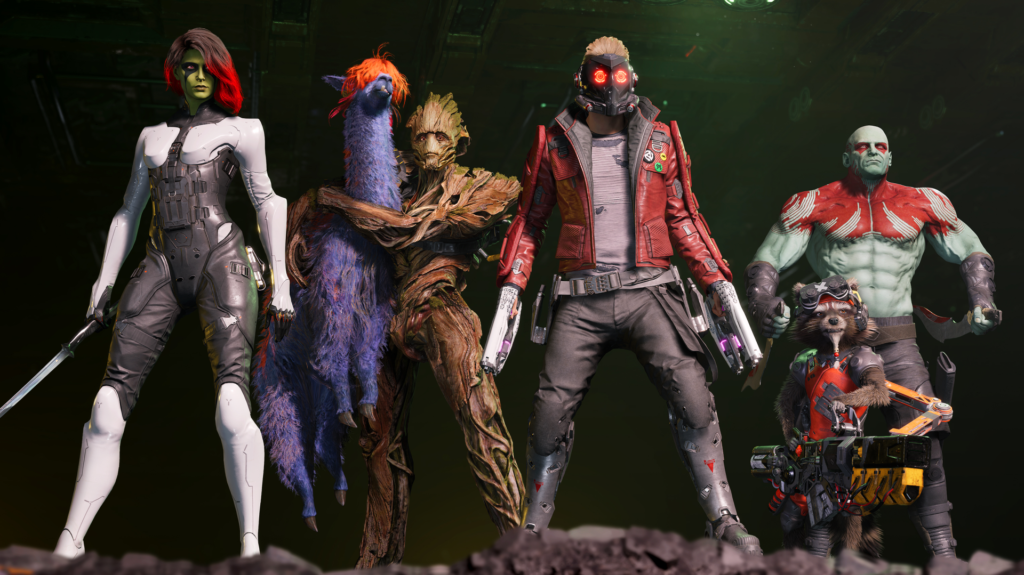 Marvel's Guardians of the Galaxy – Eidos Montreal
You won't find a better Marvel Comics ensemble story in gaming. Eidos Montreal expertly captures what makes Marvel's misfits so much fun, with snappy dialog, great character design, and a tightly designed linear campaign that won't waste your time. (And, yes, more disclosure, I consulted on this one.)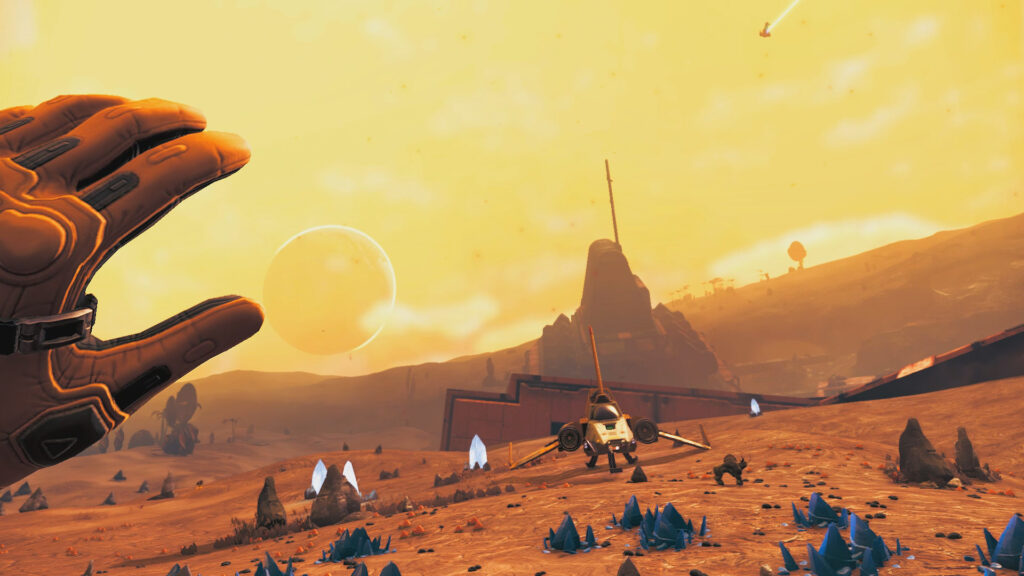 No Man's Sky – Hello Games
No Man's Sky was a disaster when it launched in 2016. Since then, Hello Games has poured an unbelievable amount of free updates that have finally aligned the title with its pre-release promise. I was lured back with the return of the first four Expeditions (objective-based seasonal content with interesting rewards, including Mass Effect's Normandy SR-1). If you've never played No Man's Sky (or it's been a while), it's a great time to check it out again.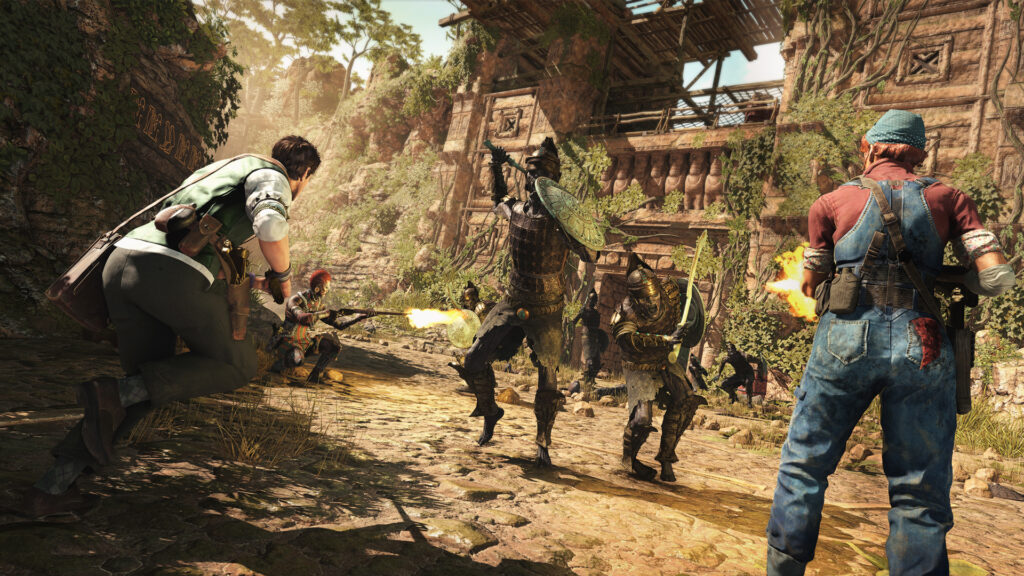 Strange Brigade – Rebellion Studios
While Back 4 Blood may be the current co-op darling (and for darn good reason), prior to its release, our gaming group went through everything Rebellion's Strange Brigade had to offer. With a kitschy, sarcastic narrator, wonderful characters, and excellent puzzles, Strange Brigade scratched that co-op zombie killing itch. Grab a few friends and check it out!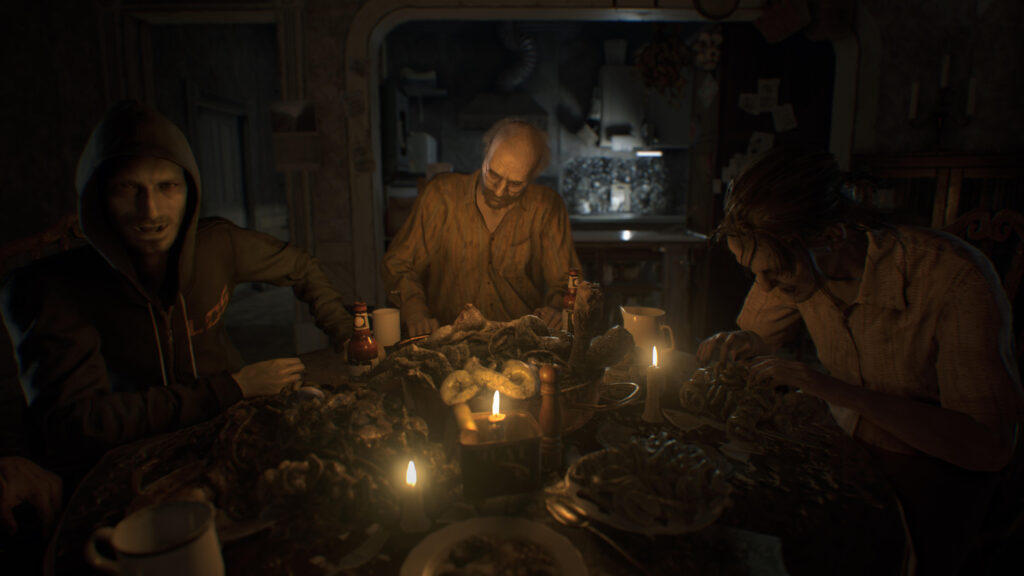 Resident Evil 7 – Capcom
I'm the world's biggest scaredy cat. Back when the Resident Evil 7 "Beginning Hour" demo came out, Manda and I played it using the PlayStation 4's Shareplay feature. The mold monster in the basement freaked me right the hell out. This year, Manda, our partner James, and I played through the entirety of Resident Evil 7 (we've still got the last couple of DLC packs to go through). I did most of the driving and didn't pee my pants even once. It was a fantastic experience, and I'm glad I mustered the courage to get through it… finally.
The Resident Evil franchise was moving in the wrong direction, with fans frustrated after a sharp diversion from survival horror in the last numbered entry. Resident Evil 7 is a shift in perspective and a return to the terrifying atmosphere and mystery that made the series such a hit.